Logo Design Dubai
Award Winning Logo Design Agency
We give your business a first impression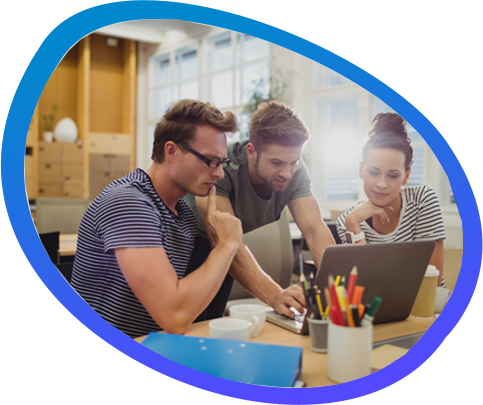 Introduction
Logo Design Dubai Company
We believe that a logo design is not just an image, it's an identity of your brand and our company will help you gain that recognition by creating a memorable masterpiece for your brand. Our logo will not only represent your brand but it will help you to stand out of the rest. We not only create an image, we help you deliver a message through it. So, all you need to do is share your ideas and our team will work on providing you splendid and satisfactory results.
A Four-Phase Approach to Design Excellence
Our Logo Design Dubai Process
We believe that good quality design requires more than just creativity. It requires research, analysis and close collaboration with you to reflect your organization's vision, strengths, messages and priorities. To ensure that our design aligns with your expectations, we've developed a four-phase process to guide us every step of the way.
Phase I: Research
Before any actual creative work begins, our Logo Design Dubai Team conducts extensive background research. We will meet with you to understand your goals, audience needs and project expectations. In addition, we will conduct market, customer and competitive research to gather additional insight. Once our research is complete, we will provide a creative brief to summarize the results of our inquiries and outline the project, along with a detailed project schedule to ensure on-time delivery.
Phase II: Design
When our logo designing team analysis is completed and you are on board with the initial concepts, design work begins. We keep your communication needs and priorities at the core of every design decision – from colors to image selection to font styles. Typically, we explore several different creative approaches before centering in our main creative ideas. Based on your feedback, we evolve these creative approaches into comprehensive design directions. As part of this logo design process, we will deliver creative concepts for your evaluation.
Phase III: Implementation
After you select your preferred creative direction, we begin design execution. Logo Design Dubai company works with you to select images and gather copies for the final design pieces. Our Logo Design Dubai Team produce draft outputs for your review and make sure that your input is reflected before any piece goes into production. When your quality standards (and ours) are achieved, we prepare your design pieces for final production.
Phase IV: Evaluation
After the logo design is complete, we follow up with you to assess the outcome of the project. We are keen to hear not only your insights on our process and designs, but also any feedback you have received from your audiences. If desired, we can work with you to design data-gathering tools – such as customer surveys – to collect insight from your target audiences.
OUR WORK
Our Honest Approach
We like to have fun and genuinely care about our clients.
We enjoy bringing your logo design dreams to life and making them even better. Logo Design Dubai do not believe in a dull time at work and we are committed to giving you an otherworldly experience. We believe that laughter always turns a job into a passion!
OUR PRICES
Best Price Guarantee
BASIC

AED

900
Get Started
Creative Concepts x 2
Number of Revisions x 3
Standard Delivery 3 Days
Number of Designers 1
100% Satisfaction Guarantee
File Formats
24 Hours Support
–
–
–
–
–
–
STANDARD

AED

1200
Get Started
Creative Concepts x 4
Number of Revisions x 3
Standard Delivery in 3 days
Number of Designers x 2
Business Card Design Included
100% Satisfaction Guarantee
File Formats
24 Hours Email Support
Phone Support
–
–
–
–
PROFESSIONAL

AED

1800
Get Started
Creative Concepts x 6
Number of Revisions Unlimited
Standard Delivery in 3 days
Number of Designers 2
Business Card Design Included
Business Stationery Included
Email Signature Included
MS Word Letterhead Included
100% Satisfaction Guarantee
File Formats
24 Hours Support
Phone Support
Dedicated Account Manager